Variety Pack, 7 Packs
A variety of all 7 flavors
Life is full of decisions, so we'll make this one easy: treat yourself to one of each of our fruit blends!
Our delicious fruit blends are infused with simple ingredients derived from nature for BALANCE, UPLIFT, RENEW, GLOW and ZEN.
Raspberry Blueberry BALANCE contains 200mg Ashwagandha Root Extract.

Strawberry Pomegranate ZEN contains 150mg Chamomile Extract.

Banana Peach UPLIFT contains 150mg Turmeric Root Extract.

Apple Citrus UPLIFT contains 250mg Turmeric Root Extract. 

Black Cherry RENEW contains 100mg Ginseng Extract.

Passion Fruit Pineapple GLOW contains 3g Ginger Juice.

Mango Banana GLOW contains 1.5g Ginger Juice.
May contain peanut, tree nut, milk, soy, egg, wheat.
Store pouches at room temperature or refrigerate.  Refrigerate pouch after opening & consume within 24 hours.
NET WT Varies per flavor, 3.27 OZ (92.7g) - 3.44 OZ (97.6g)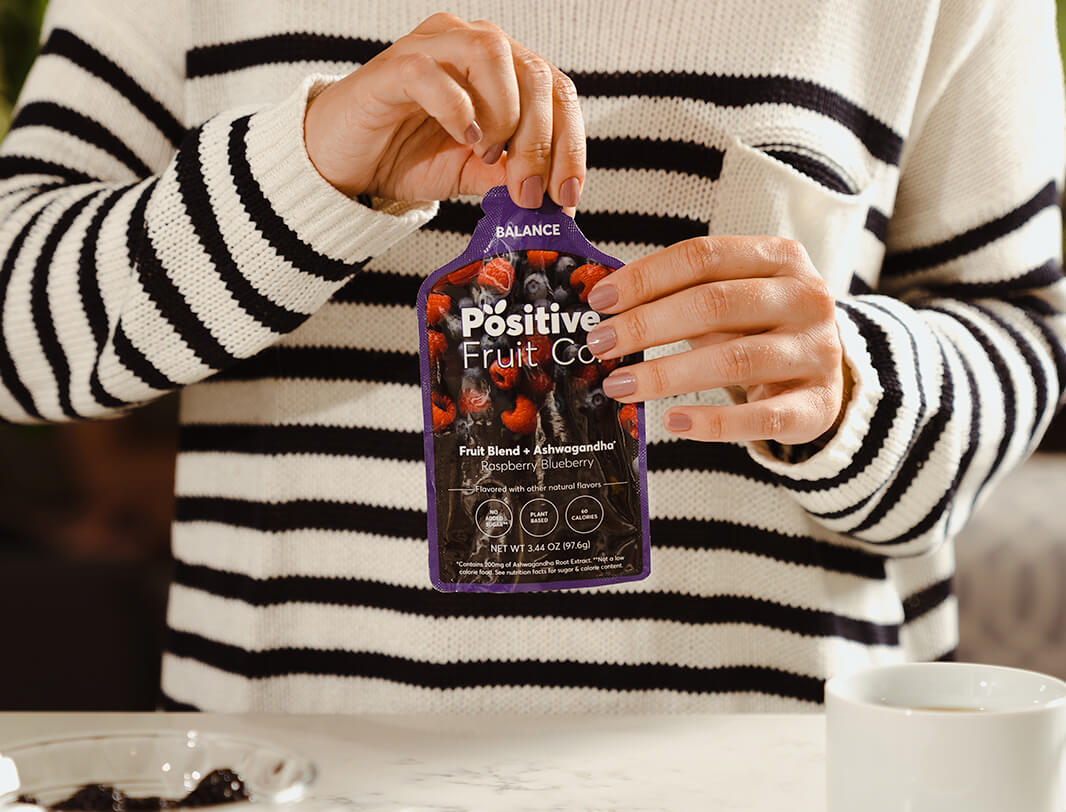 BALANCE to the rescue
Whether it's 10 a.m. or 3 p.m., sometimes you just need a pick-me-up. Now, more than ever, BALANCE feels essential and, well, elusive. Our Raspberry Blueberry BALANCE fruit blend is infused with ashwagandha and tastes of delightful, bright berries to boot. Delivered directly to your door to maximize convenience, tear open your pouch and enjoy real, blended fruit.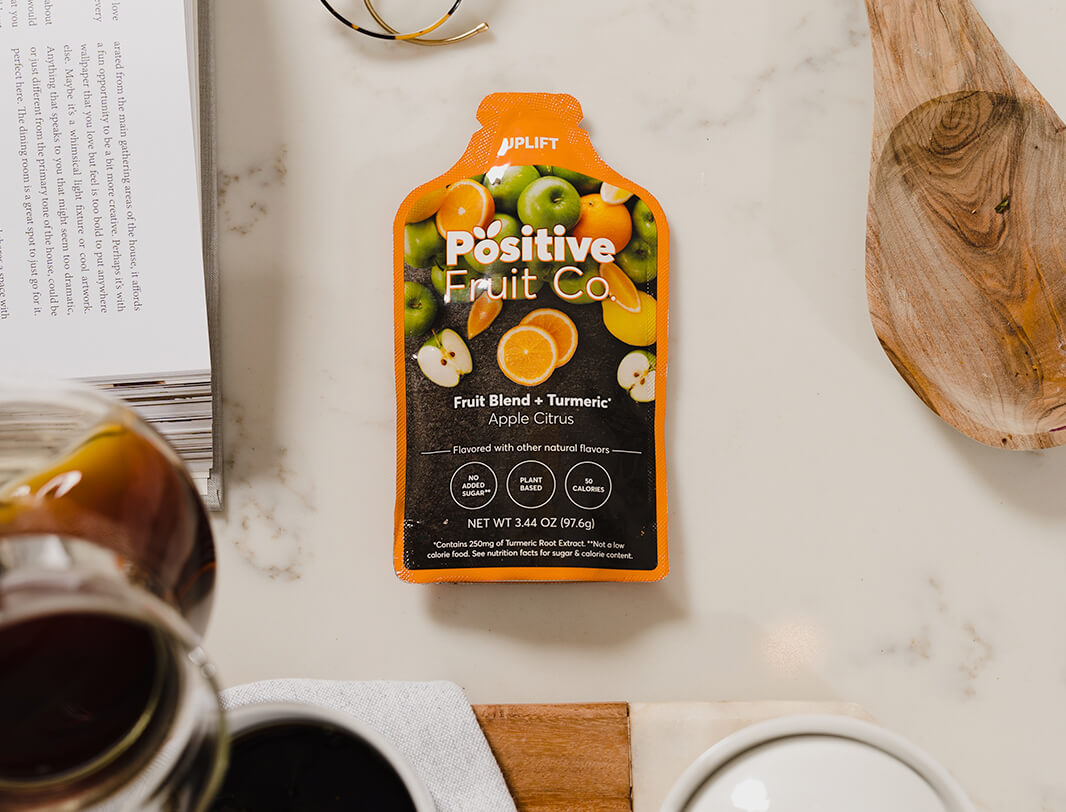 UPLIFT your morning
Maybe you skipped breakfast. Or maybe you need a little extra zhuzh to get you going this morning. Apple, mango, orange, banana and lemon blended with turmeric just makes sense in the morning. Our fruit blends are at home in your pantry, fridge, or next to your coffee machine. Apple Citrus UPLIFT is delicious alone or as a complement to your morning breakfast or caffeine ritual.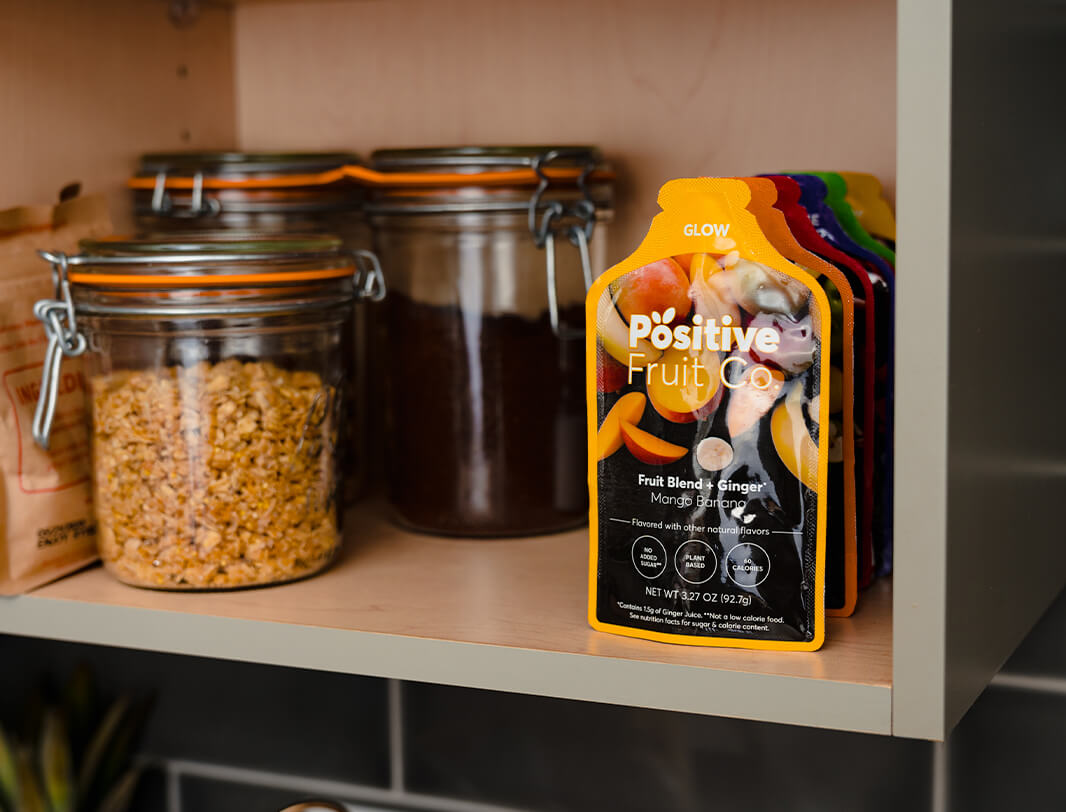 Give your pantry some GLOW
Your pantry isn't the first place you'd expect to find the goodness of fruit. But our Positive Fruit Co. fruit blend pouches will keep safe in your pantry six months after the production date, offering max convenience and opening up more opportunities to enjoy the bright, refreshing taste of real, blended fruit. Stack your shelves with GLOW or store pouches in the fridge (pro tip: they're delicious cold). Either way, our fruit blends are right at home in your home.